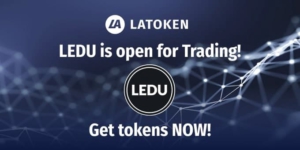 We are excited to announce that LATOKEN has activated BTC and ETH markets for our LEDU token. You will be able to trade LEDU tokens against BTC and ETH starting from February 4 at 10 PM UTC.
Deposits will open at 10 PM UTC and trading will begin at 11:59 PM UTC. Our new partnership with Latoken provides a way for you to buy, sell, and hold LEDU tokens and become part of the Education Ecosystem.
You can trade using this link: https://go.latoken.com/46g
We are always in discussions to provide you with secure and trustworthy avenues to trade your LEDU tokens against leading digital assets.
About Latoken
LATOKEN is a rapidly growing crypto exchange focusing on providing liquidity for new tokens
About Education Ecosystem
Education Ecosystem (LEDU) is a project-based learning platform that teaches professional developers and students how to build real products in areas such as artificial intelligence, blockchain, cybersecurity, data science, game development and programming. Visit our project website to learn more and follow us on Twitter to engage with us.